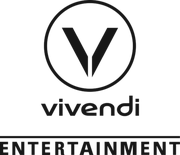 Gaiam Vivendi Entertainment (formerly known as Vivendi Entertainment) was an entertainment company and subsidiary of French mass-market company Vivendi, which was dedicated to film, television, and DVD distribution.
The company was founded in 2004 to distribute DVDs for Universal Music. On April 12th, 2012, Universal sold Vivendi to Gaiam (now known as Gaia, Inc.) in exchange for the ownership of EMI Music Distribution. On October 21st, 2013, the company was acquired and merged into Cinedigm.
Companies they've distributed for are DreamWorks Classics, Universal Pictures Home Entertainment, and 20th Century Fox Home Entertainment among others.
In September 2009, Vivendi Entertainment acquired the distribution rights to all Genius Products titles, among this being the entire Big Idea library. Vivendi Entertainment distributed several VeggieTales and 3-2-1 Penguins! DVDs from 2009 until it's acquisition in late 2013. Distribution rights were then bought by Anderson Merchandisers.
Like Genius Products, their logo never appeared on Big Idea's DVD cases.
Releases
Prints
Reprints
Compilations
Community content is available under
CC-BY-SA
unless otherwise noted.