This article is about the curriculum. You may be looking for the book series.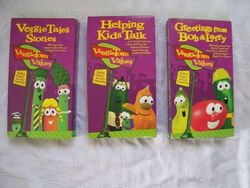 VeggieTown Values was a series of Vacation Bible School (VBS) curriculums created by Big Idea for churches to use in their children's ministries. It featured the VeggieTales characters in a suburban setting to teach many of the values and morals taught in the VeggieTales video series.
Each kit came with resources to use including booklets explaining the curriculum, clip art, music, activities, and exclusive VHS tapes made specifically for the programs. This included such tapes as:
VeggieTales Stories — Shortened and edited versions of segments from the VeggieTales videos to help reinforce the curriculum and lessons being taught.
Helping Kids Talk — A resource video hosted by Scottie May to help leaders and volunteers understand how to help and encourage children and students in the program.
The exclusive VeggieTown Greetings have never had DVD re-releases, except for the sixth segment from the original first batch of greetings. It made its way onto one of the VeggieConnections resource DVDs, although any mention of VeggieTown is edited out to avoid confusion. In total, there are about 30 segments across the series of VBS curriculums.
Greetings Segments
VeggieTown Values
Segment 1
Larry thinks VBS stands for Value Bargain Sale and other stuff, until Bob points out that VBS stands for Vacation Bible School.
Segment 2
Bob and Larry are attempting to come up with a theme song for VeggieTown, but Larry keeps coming up with nonsensical lyrics, which irritates Bob. At the end, Bob acknowledges that Larry came up with one correct lyric: it's time for VeggieTown.
Segment 3
Bob has received a map of VeggieTown from the Chamber of Commerce, but Larry claims he knows the place, including the playground. After falling off the countertop, he is lost and wants the map.
Segment 4
Bob and Larry are about to greet the viewers of VeggieTown, but they soon discover they're invisible thanks to Larry accidentally bringing vanishing cream down to the beach. Larry suggests the kids concentrate hard enough for them to come back just like they did for Tinker-Bell in Peter Pan, which unfortunately backfires when they reappear on the countertop with their Bob in Larry's body and Larry in Bob's body.
Segment 5
Larry wants to run for president, but Bob points out that he couldn't run for president since he's a cucumber, he has a shoe on his head, and he'd need more votes than just himself and the kids in the audience. Larry then opts to run for mayor of VeggieTown and gives a brazen speech (with platform items being that he'll put an animal in something, or he'll give food to animals). After Bob interrupts and reminds him that VeggieTown is about important things, like kindness and forgiveness, Larry admits he'll need to learn more about being a mayor. However, he still has the shoe on his head, which annoys Bob.
Segment 6
Larry, as Larry-Boy, has gotten himself stuck on the wall again and is irritated at Bob for not helping him at first. Eventually, Bob decides to help him with help from the kids wiggling back & forth in there chairs until he gets unstuck. After Larry falls down from the wall, he is unable to get up due to the impact from the landing, and Bob expresses how this is a problem everyone can relate to. Shortly after, Larry mischaracterizes the term "be there shortly" to mean that since Bob is short he'll be there shortly and since Larry is tall he'll be there "tall-y," which prompts Bob to tell him to be quiet.
Segment 7
Larry is unhappy that the viewers are having a good time in Veggie-town, but Bob emphasizes on that you can be serious and have fun at the same time. When Bob invites him to do an activity (at the approval of the kids), Larry brings out his oven mitt, leaving Bob annoyed.
Segment 8
Larry is getting the wrong ideas about VeggieTown, and Bob needs him to stop. He explains that there are places to explore, exciting Larry when he mentions the mall.
Segment 9
Following the fifth segment, Larry is running as mayor of VeggieTown. He comes up with a jingle, but Bob doesn't like it. Bob then decides he's not ready to be mayor. Larry finally says he should run for Tooth Fairy.
Segment 10
Bob is about to start the intro, when Larry interrupts, renaming it VeggieWorld, much to Bob's confusion. Larry states it's an amusement park, much to Bob's dismay, but at Bob's urging he turns it back to VeggieTown.
VeggieTown Values: On the Job
Vacation School
Bob is about to greet the viewers, but Larry is missing at first and emerges wearing a beachgoer's outfit. Larry is under the impression that he and Bob are going to vacation school, until Bob points out that VeggieTown is vacation Bible school.
Larry's Interview
Larry is wearing a tie because he wants to get a job. After being informed that getting a job involves more than just wearing a tie, he agrees to attempt a mock interview with Bob, which flops when Bob forgets the name of the job he was addressing Larry on.
Larry the Cook
Larry has a new job as a cook, and wears an oven mitt on his head since he doesn't have any hands. As Bob starts talking about values on the job, Larry mixes the lessons up with value meals, much to Bob's irritation.
Larry the Psychiatrist
Larry is a psychiatrist who expresses a desire to help people. Bob doesn't want to be psychoanalyzed, but Larry begins doing so anyway by asking him nonsensical questions, which causes him to leave.
Sani-Boy
Larry tells Bob that he created the world's new superhero, Sani-Boy! His costume is a white shirt with the initials "SB", with a plunger for a hat, with a broom and a disinfectant spray can on its sides. Sani-Boy accidentally sweeps dust around Bob, and then sprays him with the disinfectant spray. After Bob tells the viewers to have fun, he decides to go take a shower.
Slingshot Larry
When Bob is greeting the viewers, Larry slings a newspaper at him, much to his annoyance. Soon after, Larry explains he is looking to get a job delivering newspapers and was testing his delivery system, which he says is an "Official Larry-Brand Aerodynamic Paper Projectile Impeller." Bob points out that it is merely a slingshot and tells Larry to stop slinging the newspapers around, which ends in Larry slinging flowers onto his head instead.
Restaurant Larry
Larry expresses his desire to open his own fast food restaurant, but the idea flops thanks to his menu item of "Deep-Fried Peanut Butter and Jellyfish Sandwich," which doesn't end up being received well. Forced to admit he'll need to revise his menu, he next offers Bob a position at his restaurant as a short-order cook, which he misunderstands, thinking that since Bob is short he'll be good for the position. Bob is slightly irked at this.
Cowboy Larry
Larry is looking to get a job as a cowboy and is practicing his cowboy accent and language. Upon learning that cowboys rope cows, Larry explains that he thought he would roast marshmallows with the cows. After talking more about VeggieTown with Bob, Larry suggests that if he and the cows roasted marshmallows together, they wouldn't be mad when he roped them.
Rocketboy Larry
Larry announces that he is "Rocketboy Larry" and that he has a job as a space explorer. He names a few space creatures, but Bob points out that they can be found on Earth and is skeptical of Larry being able to fly his spaceship. As Larry is flying off in the spaceship, Bob is left in shock and begins pursuing him.
Hardhat Larry
Bob presumes Larry has a new job, which Larry clarifies is a job in construction with a company called "Arthur Artichokes Architectural Associates." Larry explains how he is using the VeggieTown values on the job, and the greeting appears to go well until Larry embarrasses himself by saying his hat is a batter's helmet, which he wears when he wants to hit baseballs after work. As Larry leaves the screen, Bob is left disgusted at the way the greeting turned out.
VeggieTown Values: For the Family
Greeting 1
Larry thinks that collecting holes will make him holy, but Bob explains that being holy actually means being set apart for God. When Bob hops off to VeggieTown, he falls in a hole, then when Larry tries to help him, he falls in a hole as well.
Greeting 2
Larry is recording his own sitcom, called "Everybody Loves Larry", with Bob playing an English butler. When an audience laughs at Larry's joke, Bob explains to him that there's nobody there, and that the sound is coming from a pre-recorded tape. This makes Larry think nobody loves him, but Bob explains that a lot of people love him, and that God loves everyone dearly. Larry agrees to go to VeggieTown with Bob, but only if he does a scene where the butler cleans chickens out of a toilet.
Greeting 3
While Bob and Larry are waiting for the camera to take a picture, Bob notices Larry's shirt, which he explains Aunt Ruth sent him so he can "clothe himself in compassion". Larry accidentally messes up the picture, and Bob has to set the timer again. Bob explains to Larry that clothed in compassion means his mind should be surrounded with compassion. While he's explaining this, he misses the timer again, slightly irritated at Larry for making him miss the picture. Larry decides to show Bob compassion by setting the timer. While doing so, he accidentally destroys the camera.
Greeting 4
Bob sets out a plate of cheeseburgers while Larry is gone. Bob tries to explain to Larry that today's value is kindness, but Larry decides to distract Bob so he can take the cheeseburgers when he isn't looking. Bob notices this, and Larry realizes that he should be kind, but not before asking for the last cheeseburger.
Greeting 5
Bob is looking up his family tree, which causes Larry to talk about his family, including his great aunt Lori the Cucumber, who he says was the first person to walk on the moon. It doesn't take long for Bob to realize that Larry's making up stories, so he explains to him that he doesn't have to be ashamed of his humble background.
Greeting 6
As Bob is greeting the viewers, Larry introduces himself as Dr. Larry, MD. Bob is confused, so Larry explains that he specializes in bruises, and decides to examine Bob. Before Bob can refuse, Larry starts hurting Bob. Bob asks if he specializes in curing bruises or giving bruises, in which Larry replies that he missed that day in medical school. Bob explains that they should head over to VeggieTown to learn about gentleness. Before they go, Larry tries to get a splinter out of Bob's nose, which makes Bob freak out.
Greeting 7
Larry isn't feeling up to going to VeggieTown, because his patients come for one visit, but don't come back. When Bob asks how he talks to a patient, Larry starts yelling orders. Realizing why Larry doesn't have patients, Bob explains that he's impatient, and that he needs to be more patient with his patients. Larry pushes Bob impatiently to go to VeggieTown, but Bob reminds him of patience yet again.
Greeting 8
Larry is about to sing a song called "Friends are Friends Forever", but Bob explains to Larry that they'd get in trouble for singing that song, since the rights belong to Michael W. Smith. Larry then decides to sing a different song, but this song openly insults Bob (calling him a wet raccoon, saying he's round, etc.). Bob explains he should be more thoughtful like Michael W. Smith, but Larry says that would be copyright infringement. On their way to VeggieTown, Larry starts singing his song again.
Greeting 9
While Bob is greeting the viewers, Larry introduces himself as "The Oddfather". Larry explains that he's the head of the family. Bob corrects Larry, saying that he's talking about being a gangster. Larry states he does favors, like putting a head of lettuce on the foot of a bully's bed. Bob explains that Larry wants to get revenge, and that God wants us to forgive each other instead. Before going to VeggieTown, Bob tells Larry, "you're a dill I can't refuse", which confuses him.
Greeting 10
Larry tells Bob he needs a new look, and tells him to look at QWERTY, since he's planning a virtual makeover. Larry gives him a mustache, a toupee, a monocle, etc. Larry eventually crashes the system from going too fast. Bob explains to Larry that his friends love him just the way he is, and that's how God loves us. Larry cancels the makeover, which makes Bob remark that he was starting to feel like Mr. Tomato Head. This gives Larry an idea to make Mr. Tomato Head a licensed character, but Bob states it'll never happen.
Transcript
Fun Facts
Trivia
The original ten segments were made around 1998. The "On The Job" segments were made around 2000.
When the boxsets were originally released in 2000, only five of the "On the Job" greetings were produced. However, a free e-mailing card came with the sets which you could send off to receive a VHS tape with all ten of these greetings. Because of this, however, the last five of these greetings are extremely rare, and may very well be the rarest of the sets.
The "On the Job" and "For the Family" greetings were written by Sean Gaffney and John Duckworth respectively. Who wrote the original 1998 greetings is currently unknown.
The "For the Family" greetings are the only ones to not be animated, as they were only made as audio tracks to be performed by Bob and Larry puppets.
In the Friendship Greeting Segment, Larry's song is in the tune of Three Blind Mice.
The Cowboy Larry segment became an internet meme.
Remarks
In the greetings segments from 2000 that were created using Maya animation software, Bob and Larry appear smaller. They are roughly the same smaller size as their appearances in Mr. Cuke's Screen Test and Take 38.
Goofs
Junior and his parents appear in the VeggieTown anthem (in the scenes with Bob and Larry in the white void), but they're silent because their vocals were never recorded, unlike the original version of the VeggieTales Theme Song.
At the end of the VeggieTown anthem, Dad and Mom Asparagus' mouth movements don't match the lyrics being sung.
When Larry falls off the countertop, his mouth disappears for a split-second.
Inside References
Larry wears the same shoe he wore from The Story of Flibber-o-loo.
The cardboard cutout buildings from Dave and the Giant Pickle are used in a few segments. On a similar note, Larry-Boy getting stuck on the wall mirrors his debut in that episode as well.

Larry's Sani-Boy is a reference to Larry-Boy as well. Even his quote "Where there's dust, I'll bust it" is an echo from his debut episode.

Larry wears an oven mitt on his head in few of the segments.
Real World References
There are three references in Segment 4 of the first VBS videoes.

"The Invisible Man" is a 1897 novel by H.G. Wells about a scientist who turns himself invisible. Larry suggesting they should wrap themselves in bandages is most referring to the 1933 Universal Studios film adaptation, where Doctor Griffin wraps himself in bandages so people can see him.
The scene that Larry talks about with Tinkerbell was in Disney's Peter Pan in 1953.
Larry says "It's not easy being green, you know." This is a reference to Kermit the Frog's signature song and famous catchphrase.

Larry's confusion over 39th American president Jimmy Cater being a peanut is based on the fact Carter was a peanut farmer prior to his tenure as president.
In segment 8, Larry's line "A dimension where nothing, is as it seems. You are entering the veggie zone." is a reference to the opening monologue from The Twilight Zone.
"Everybody Loves Larry" is a parody on the 1996 sitcom, "Everybody Loves Raymond".
In the eighth For The Family greeting, Larry almost sings "Friends are Friends Forever", a song written by famed Christian recording artist Michael W. Smith
The Oddfather is a direct reference to the 1972 film, "The Godfather".

Furthermore, the line about putting a head of lettuce on the foot of a bully's bed is a reference to a scene in the film, in which the character Jack Woltz wakes up with a severed horse head at the foot of his bed.
Also, Bob's line "You're a dill I can't refuse" is a reference to a quote in the film.

Mr. Tomato Head is a parody on Hasbro's Mr. Potato Head.
Gallery
Community content is available under
CC-BY-SA
unless otherwise noted.