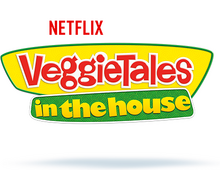 VeggieTales in the House is a series that is exclusive to Netflix that began streaming November 26th, 2014, and the fourth show created by Big Idea. This series marks the debut of the new redesigns of the VeggieTales cast.
History
On March 14th, 2014, Netflix announced three Dreamworks animated shows coming by the end of the year. They were All Hail King Julien, The Adventures of Puss in Boots, and of course, VeggieTales in the House. Phil Vischer stated about the series on his podcast around late 2013/early 2014, giving some hints on the new designs.
This series introduces the new redesigns of the main cast from VeggieTales, which were revealed around Summer 2014. The reception amongst the designs are widely panned amongst the fanbase, and some even trying to petition to bring back the old design. Show designer Joe Spadaford states that the reason they redesigned this because the riggings on the models were used since 2000 and they wanted to start something fresh, since the old designs were getting harder to animate. Phil Vischer stated on a podcast that regardless how the designs are, he likes them at the same time.
Mike Nawrocki and Doug TenNapel posted some videos on the official Facebook that the morals on this series will be the same as the main show itself.
According to Phil from his podcast and a article from DECIDER, the series would last three years with 150 shorts.
The first five episodes of Season 1 were released on Netflix November 26th, 2014. Episodes 6 - 10 were released on January 30th, 2015. Episodes 11 - 15 were released on April 17th, 2015. Season 2 premiered on September 25th, 2015. Season 3 premiered on March 25th, 2016. Season 4 premiered on September 23rd, 2016.
A spin-off series called VeggieTales in the City aired on February 24th, 2017 and contained the rest of the episodes.
Episodes
Season 1
Season 2
Season 3
Season 4
Fun Facts
Season 1 is the first season to be split, and the only season in the show to have more than 13 episodes.
This is the first series Big Idea created for Netflix that has been released in various languages.

Sometime after production for the fourth series concluded, the other language dubs were released on the American Netflix service, with the exception of the Finnish dub.

The show is said to take place in an alternate universe, due to the contradictions and designs. 
Apart from guest voices (China Anne McClain, Tony Hale, Jon Heder, etcetera), Rob Paulsen voices most of the male characters that were not already voiced by Mike Nawrocki or Phil Vischer, and Tress MacNeille voices most of the female characters.
Rob Paulsen, who voiced Mr. Beet in Beauty and the Beet, voices Ichabeezer, a replacement for Mr. Nezzer.
Gallery
Community content is available under
CC-BY-SA
unless otherwise noted.