The Penniless Princess
Director(s)
Writer(s)
Music by
Released

August 11, 2012

Runtime

49 minutes
The Penniless Princess is the 44th episode of VeggieTales.
The story is based on Frances Hodgson Burnett's "A Little Princess".
Fun Facts
Explanations
Chocolate eclairs and croissants are French pastries.
Even though the book it's based on takes place on the late 1800s, the episode takes places in the early 1900s. Brian Roberts states this on the commentary so they can have the teddy bear in the story for Sara.
Trivia
This is the first episode not to use Qwerty since Sumo of the Opera. This is also the first episode to be read on a letter since 2009.
Originally, Brian wanted to use Dad Asparagus as the role of Sara's dad since he "disappears" in the first act. But they decided to stick with Larry since he fits more better.
Inside References
Gallery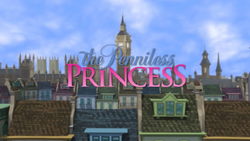 Community content is available under
CC-BY-SA
unless otherwise noted.