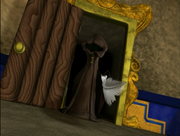 VeggieFan2000, HAVE YOU BEEN PLAYING ALL SUMMER!!!????? YOU THINK THIS IS A GAME!!!!!!!!????????? WELL GUESS WHAT!!!!!!!! THIS IS ALL OVER!!!!!!!!!! TIME TO GET YOU BANISHED TO THE ISLAND OF PERPETUAL TICKLING!!!!!!!!!!!!!!!!!!
Admins have warned VeggieFan2000 to stay under good behavior, but he/she just keeps on and on with his/her old tricks -- Creating hundreds of blank pages, removing a warning from his user page, and even insulting admins who tried to block him. He kept unblocking himself as well.
Please do not remove this template from your user page.
FOR YOUR PUNISHMENT, VeggieFan2000, YOU WILL BE SENT TO THE ISLAND OF PERPETUAL TICKLING, ALONG WITH ANYONE ELSE WHO DARES SCHEME AGAINST BIG IDEA WIKI AND ITS PAGES!!!!!! HAVE FUN BEING BLOCKED FOREVER!!!!!!!