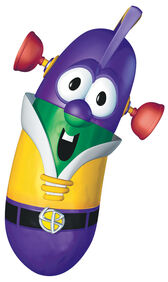 (Sane) Catholic and fan of VeggieTales here. I knew about this show when I was younger, but I didn't watch it that much because I never bought the DVDs and because my parents only let me watch secular programming for some reason (it doesn't help that though there are kids shows for Christians, kids shows for Catholics are few and far between). However, I remember watching an episode of the Cartoon Network show MAD in 2011 that had a segment called VeggieTales From The Crypt, that mashed up this show and Tales From The Crypt. That short was scary. I wish I watched this show in my childhood.
Somehow in 2016, I became a fan of the show after watching it on TBN for the first time. The episode was Minnesota Cuke and the Search for Noah's Umbrella. That was a good episode. I really love this show because it teaches about the Bible in a fun, non-preachy way and it has lovable characters, smart writing, pop culture references, and awesome songs.
I HATE VeggieTales in the House! The characters are flanderized beyond belief (especially poor Larry, who is my favorite character), and the new designs are creepy. Bacon Bill and Tina Celerina are so annoying. Ichabeezer is a ripoff of the far superior Mr. Nezzer. On top of all that, they barely mention God or the Bible, except for the "Remember kids, God made you special, and He loves you very much!" stinger at the end of each episode. Think about if the bad seasons of SpongeBob (seasons 6-8) were made into a CGI preschool "religious" show, and you basically have In The House.
As for 321 Penguins, I remember watching one episode of that show where Michelle got jealous. I wonder why it's called 321 Penguins when it has nothing to do with counting and the penguins aren't even the main focus. I need to binge more episodes of this shows soon.
One piece of VeggieTales merch that I own is Noah's Ark (book). I got that book at a church in either Christmas 2016 or Three Kings Day 2017. I am excited for The VeggieTales Show. I'll really be active on the wiki when it comes out on October 22.
My favorite stuff
Characters
Episodes
Minnesota Cuke And The Search for Noah's Umbrella
Where's God When I'm Scared
God Wants Me To Forgive Them
Tomato Sawyer And Huckleberry Larry's Big River Rescue
The Ballad Of Little Joe
Madame Blueberry
An Easter Carol
The Star Of Christmas
Josh And The Big Wall
Esther....The Girl Who Became Queen
It's A Meaningful Life
The Penniless Princess
If I Sang A Silly Song
Rack Shack And Benny
A Snoodle's Tale
Gideon Tuba Warrior
Songs
The LarryBoy Theme Song

Also, the theme song to LarryBoy the Cartoon Adventures

Pizza Angel
VeggieTales Theme Song
Thankfulness Song
The Battle Is Not Ours
Oh Where Is My Hairbrush
Where Have All The Staplers Gone
My Day
You Are My Sunshine
Keep Walking
Schoolhouse Polka
Love My Lips
We Are The Pirates Who Don't Do Anything
Bellybutton
Cebu
His Cheeseburger
Barbara Manatee (this song sums up how I *ahem* feel about a certain pointy-nosed pink-haired gem from Steven Universe)
Stuff Mart Rap (Allow Us to introduce ourselves!)
God is Bigger
Haman's Song
Oh, Santa
Hope's Song
The Rejoice Song (one of the only good things to come out of In the House)
Other Stuff besides VeggieTales
Ready Jet Go (this show is animated in CGI just like VT. Also, Jet and Sean are kinda similar to Bob and Larry in personality).
Steven Universe (Archibald Asparagus is similar to Pearl. Also, they both have positive messages about kindness and forgiveness).
Thomas the Tank Engine and Friends (a lot of Thomas fans like VeggieTales. Thomas is animated in CGI just like VeggieTales. They are also both animated by Jam Filled Toronto).
The Casagrandes (which replaced The Loud House in my favorites list; anyways a lot of VT fans like both TLH/TC and VT and they are both animated by Jam Filled Toronto
Barney (Both Barney and VT were distributed by Lyrick Studios at one point in time)

Same for SpongeBob, Mario, Let's Go Luna, and Molly of Denali. Besides the stuff in my profile picture, I also liked many many other games and shows that would take forever to list...