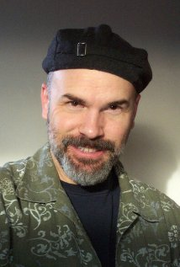 Tim Hodge (born April 2nd, 1963 in Boaz, Alabama) is a voice actor, animator, writer, producer, and director. He worked for both VeggieTales and 3-2-1 Penguins!.
Prior to his work at Big Idea, he worked for Walt Disney Feature Animation at Orlando, Florida. He later joined Big Idea when Phil Vischer and Mike Nawrocki came to the Hard Rock Cafe at Universal Studios to promote Larry-Boy and the Rumor Weed.
He started working at Big Idea in April 2000 and worked until December 2008, although he helped out on some episodes after that.
Voices
Director
Episodes
3-2-1 Penguins! Episodes
VeggieTales in the House Episodes
VeggieTales in the City Episodes
Silly Songs
Fun Facts
In various commentaries, Hodge stated he made some comics during high school. One about Don Coyote, and another about Gideon, which he never finished.
Some of his works for Disney were The Lion King, Mulan, and Brother Bear.
His favorite type of pizza is ham and pineapple.
After he left Big Idea, he became a part-time beekeeper.[1]
List of Works
References
Community content is available under
CC-BY-SA
unless otherwise noted.