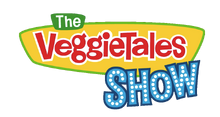 The VeggieTales Show is an upcoming revival series of VeggieTales that will be aired on TBN. They will also produce the series, with Phil Vischer and Mike Nawrocki serving as writers, Kurt Heinecke returning to score music and Todd Waterman as the show-runner. It is planned to debut in October 2019 and it will include a new Christmas episode and a nine-episode series on the fruits of the Spirit. The three original actors (Phil Vischer, Mike Nawrocki, and Lisa Vischer) will be returning to voice their respective characters. 
The show focuses on Bob, Larry and their friends leaving the kitchen countertop and producing shows in Mr. Nezzer's live theater for an actual audience.
The series was officially announced on March 28th, 2019 at the National Religious Broadcast 2019 Convention. The first trailer for the series was released on April 24th, 2019. During the K-LOVE Fan Awards 2019, another teaser trailer was released with some animated footage. 
On August 2nd, 2019, the VeggieTales Twitter page announced that the release date for the first episode will be October 22nd, 2019. 
On August 16, 2019, The first official trailer for the first episode was released with more finished animated footage.
Characters
Episodes
Quotes
Bob the Tomato: "You're the president of the VeggieTales Fan Club. Are you aware of any letters we've received that deal with this particular situation?"
Petunia Rhubarb: "We have...one."
Jimmy Gourd: "Is it about food?"
Fun Facts
This is the first show to reuse the old VeggieTales designs.
According to another teaser trailer during K-LOVE Fan Awards 2019, the original date was going to be December instead of October.
Gallery
Sources
Community content is available under
CC-BY-SA
unless otherwise noted.