The Penniless Princess
Director(s)
Writer(s)
Music by
Released

August 11, 2012

Runtime

49 minutes

Previous episode
Next episode
The Penniless Princess
is the 43rd episode of
VeggieTales
.
The story is based on Frances Hodgson Burnett's "A Little Princess".
Plot
The episode starts off with the countertop decorated fancy, and Larry starts off showing the audience "A Little Princess". She goes to a School for Girls and when Crewe goes back to Africa, she meets new friends, Ernie (Libby), and Becky (Laura the Carrot) Sara's Teacher Miss Minchin was particularly mean to her and Captain Crewe died in a War and his friend Mr. Carrisford (Archibald Asparagus) was sad about his loss of a friend and Sara was nowhere to be found. Worst of all for Miss Minchin, she hurt Ernie, Becky, and Sara like throw her teddy Bear Mortimer out the window and takes their food away. Sara was crying about losing everything and her Papa was dead. Then when Sara visits Carissford, he saw a mircale and found Sara, then Miss Minchin Fibbed To Mr. Carrisford to get Sara back. Then Sara and Becky are back in school and Mr. Carrisford cared for Sara
Characters
Songs
Silly Songs with Best Friends Forever: Best Friends Forever
No Matter What (reprise)
God's Little Princess (reprise)
Fun Facts
Explanations
Escargot is a French appetizer of cooked snails.

On a similar note, Chocolate eclairs and croissants are French pastries.

Even though the book is based on takes place on the late 1800s, the episode takes places in the early 1900s. Brian Roberts states this on the commentary so they can have the teddy bear in the story for Sara.
Trivia
Inside References
Episode Transcript
Gallery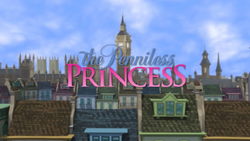 Community content is available under
CC-BY-SA
unless otherwise noted.