The Lost Dust Bunny
Director(s)

Emily Jourdan

Writer(s)
Released

February 24, 2017

Previous episode
Next episode
The Lost Dust Bunny is the second half of the eleventh episode of VeggieTales in the City.
Plot
Mayor Archibald asks Bob and Larry to watch over a herd of dust bunnies.
Characters
Fun Facts
Trivia
The episode is loosely based on the Parable of the Lost Sheep.
Inside References
Larry asks the Dust Bunny for a "Classic Bob the Tomato" card.
He also asks if he wants a QWERTY card, making the Dust Bunny confused. Larry then brings attention to this by stating "it was before its time". (See also Remarks/Goofs)
Remarks/Goofs
Larry states to the bunny that QWERTY was before his time, despite the bunny being mentioned by him in the original "VeggieTown", which was made between "Josh and the Big Wall!" and "Madame Blueberry", which was made after QWERTY's debut. (See also Inside References)
Episode Transcript
Gallery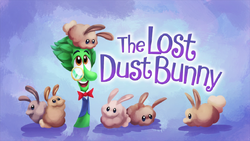 Community content is available under
CC-BY-SA
unless otherwise noted.