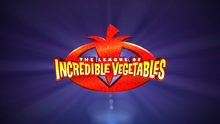 Directors
Producers
Writers
Music
Voices
Choir
Story Development
Production Coordinators
Production Intern
Production Assistant
Concept Art
Storyboards
Title Designs
Business Affairs
Editing
Dialog Recording Facilities
Character Dialog Recording
Production Services Provided by
Line Producer
CG Supervisor
Production Editors
Layout
Animation
Rigging
Modeling
Texturing
Effects
Compositing
Motion Graphics
Matte Painting
Lighting
Shots
Technical Development
IT
CEO
Head of Production
Chief Financial Officer
Accountant
Administrators
Post Production
Online Editor
Post Production Visual Effects
Sound Editors
Dialog Editor
Foley Artists
Re-Recording Mixers
Caption/Subtitle Services by
Research Services by
Songs
Words and Music by Mike Nawrocki, Lisa Vischer and Kurt Heinecke
©2009 Bob and Larry Publishing
Words by Mark Steele
Music by Mark Steele and Kurt Heinecke
©2012 Bob and Larry Publishing
Words by Mike Nawrocki
Music by Mike Nawrocki and Kurt Heinecke
©2012 Bob and Larry Publishing
Words by Mike Nawrocki
Music by Mike Nawrocki and Kurt Heinecke
©2012 Bob and Larry Publishing
"The League of Incredible Vegetables"
Written by Seth Mosley and Mike Nawrocki
Performed by The Newsboys (appearing courtesy of Newsboys, Inc.)
©2012 CentricSongs/2 Hour Songs (SESAC) admin. by Amplified Administration/Bob and Larry Publishing (ASCAP) admin. by EMI-CMG Publishing
Words and Music by Phil Vischer and Lisa Vischer ©1993 Bob and Larry Publishing
Instruments
Executive in Charge of Production
Copyright
©2012 Big Idea Entertainment, LLC. All Rights Reserved.
Community content is available under
CC-BY-SA
unless otherwise noted.