The Englishman Who Went Up a Hill
(and Came Down with All the Bananas)
Director(s)
Producer(s)
Writer(s)
Music by
Released

April 4, 2000
The Englishman Who Went Up a Hill (and Came Down with All the Bananas)
is a story from
King George and the Ducky
.
Plot
In the play, Scallion #1 is dressed as an Englishman who came down a hill and took a bunch of bananas and won't eat one without a strawberry. On the other side of the stage, a Swede (Jerry) has a bunch of strawberries he had taken from a hill and won't eat one unless he has a banana. Jimmy appears briefly and tries to correct him that he's not Swedish, but is interrupting the play, so as soon as the music stops, Jerry shushes him, prompting him to move off the screen to the left and let the play resume. The two gentlemen see the fruit they have and they won't share their fruit with each other, and, as a result, they are stuck.
Trivia
Gallery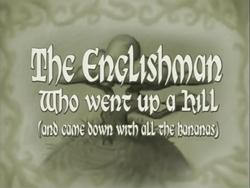 Community content is available under
CC-BY-SA
unless otherwise noted.