The Best Christmas Gift
Director(s)
Producer(s)
Writer(s)
Music by
Distributor
Released

October 15, 2019
(iTunes)
October 22, 2019
(DVD)
December 25, 2019
(TBN)

Runtime

31 minutes
58 minutes (DVD & digital
release)

Previous episode
Next episode
The Best Christmas Gift is the Christmas special of The VeggieTales Show and the second episode of the first season, and the first episode officially released of the entire series.
Plot
Bob and Larry are preparing for their first Christmas show in Mr. Nezzer's theater and the show seems to be headed for disaster. Bob begins to wonder how to celebrate Christmas when everything is going wrong. It's only when the Veggies go back to the very first Christmas, where times were tough and things didn't seem to be working out, that they all learn the promise of Christmas – God is with us. It's a timeless story of hope that every family will enjoy!
Characters
Songs
Main Episode
DVD & Digital Release Version
Production
Phil Vischer got the idea for the episode as a response to the Sandy Hook shootings that happened in 2012 two weeks before Christmas. Multiple people had taken down their Christmas decorations in response because "how could they celebrate Christmas in tough times?". It donned in Phil that the tough times are exactly why Christmas is worth celebrating. That idea of spreading joy and hope in the tough times became the main theme of the episode, but instead of dealing with something as dark as a shooting, it tackles kids having their own bad days around Christmas.
Phil wrote the first draft of the script on November 19th, 2018 with later revisions done on December 7th, December 10th, March 10th (2019) and August 8th (2019).
According to Phil, this episode was not originally intended to be the first episode of The VeggieTales Show's first season. God Wants Us to Make Peace was intended to be the first episode released for the first season. It was decided by TBN to have the Christmas special come out first instead, just in time for the upcoming 2019 holiday season. (This is confirmed by the episode's script and production number as well)
Fun Facts
Trivia
This is the first episode for the following things:
Remarks
The following things could lead to viewers mistaking it for a movie:

The Universal and Trilogy Pictures logos playing at the beginning.
Opening credits at the very beginning.
The episode's overall runtime being labeled 58 minutes, due to the included bonus features being integrated into the episode for home video releases, much like other Universal home video releases.
Inside References
Transcript
Gallery
Images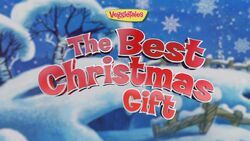 Videos
Community content is available under
CC-BY-SA
unless otherwise noted.