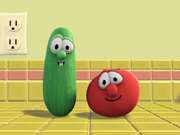 Since the beginning of Big Idea's shows, a lot of the characters might often say the words "That's Right!". This often means that that something is correct.
This phrase started thanks to Bob and Larry saying a few times whenever they start VeggieTales.
Appearances
VeggieTales
Countertops Openings
Where's God When I'm S-Scared?
Larry-Boy! and the Fib from Outer Space!
Josh and the Big Wall!
Sheerluck Holmes and the Golden Ruler
Tomato Sawyer and Huckleberry Larry's Big River Rescue
Minnesota Cuke and the Search for Noah's Umbrella
Robin Good and His Not-So-Merry Men
Laura at Bat - Larry stated this many times to encourage his baseball team.
Other
The Yodelnapper! - Greta states this when Larry-Boy (as Noodle Blabberbop) discovers she's yodelnapping.