Space Pirates!
Director(s)
Writer(s)
Released

February 24, 2017

Previous episode
Next episode
Space Pirates! is the first half of the second episode of VeggieTales in the City.
Plot
When Larry travels to the moon, Space Pirate Motato pays him a visit.
Characters
Fun Facts
Remarks
Throughout the episode, Larry and Madame Blueberry are shown wearing helmets while in space. However, neither Motato nor his crew are wearing helmets, and their ship is completely unpressurized, yet they seem perfectly fine in the vacuum of space.
Larry and Motato's flags appear to be flapping in the breeze while on the moon. This, however, is scientifically impossible, as there is no air on the moon, and therefore, no wind.
Episode Transcript
Gallery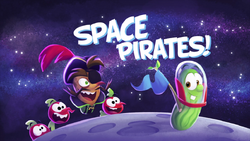 Community content is available under
CC-BY-SA
unless otherwise noted.