Sing-Alongs: Do the Moo Shoo is a Sing-Along DVD released in 2006. It is the second in a series of 4 DVDs, the others being Sing-Alongs: Dance of the Cucumber, Sing-Alongs: I Love My Lips, and Sing-Alongs: I Can Be Your Friend.
Description
Tofu? Kung Fu? What is the Moo Shoo?

These super silly songs are sure to bring out smiles! Join Bob the Tomato, Larry the Cucumber and the rest of the VeggieTales crew in this all-new collection of favorite sing-along songs that the whole family is sure to enjoy!
Songs
Features
Previews
Fun Facts
Trivia
The first image on the back is just a still from the Boyz in the Sink album, and it's the only image not to have lyrics on the bottom.
Only two songs (The Bunny Song and Share of Friends) are not actual Silly Songs.
Seven songs come first before the song of the name.
The ending of Endangered Love is edited out, because the song ends when Larry said, "Yeah, okay."
The Silly Song cards for Endangered Love, the bear trap scene from His Cheeseburger, Gated Community and Larry's Blues are cut off.
The New And Improved Bunny Song from Very Silly Songs! was included in this DVD.
Remarks
The title card for His Cheeseburger features the background music from the Silly Song card. However, said card is placed right after the former, making the background music play twice in a row before the song starts.
Goofs
Gallery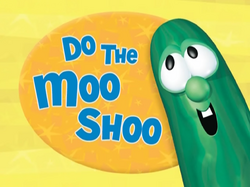 Community content is available under
CC-BY-SA
unless otherwise noted.