Sing-Alongs: Dance of the Cucumber
Writer(s)
Music by
Distributor

Sony Wonder
Word Entertainment

Released

August 1, 2006 (mass market)
November 7, 2006 (Christian bookstores)
Sing-Alongs: Dance of the Cucumber is a Sing-Along DVD released in 2006. It is the first in a series of 4 DVDs, the others being Sing-Alongs: Do the Moo Shoo, Sing-Alongs: I Love My Lips, and Sing-Alongs: I Can Be Your Friend.
Songs
Features
Previews
Fun Facts
Four out of the ten songs (The Forgiveness Song, I Can Be Your Friend, I Want to Dance, and My Day) are not actual Silly Songs.
Just like Sing Alongs: Do The Moo Shoo, the title card music is the music from the "Unfinished Bear-Trap Song" from His Cheeseburger.
Instrumental bits from His Cheeseburger are heard in the credits, but that song isn't included in the actual video.
The credits state Mike Nawrocki wrote My Day and Larry's High Silk Hat, which is not true.
Jackie Ritz, Paul Rosenburg, Matthew West and Matthew Ward are credited, but Endangered Love and Gated Community aren't included.
The Dance of the Cucumber, The Forgiveness Song and The Water Buffalo Song came in the same order on the first sing-along video, Very Silly Songs!.
The Silly Songs card with Larry dressed as a clown was featured in the beginning of Larry's High Silk Hat in this DVD before the song plays.
The Silly Song cards for The Water Buffalo Song and Sport Utility Vehicle are cut off.
Gallery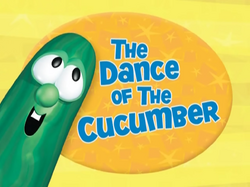 Community content is available under
CC-BY-SA
unless otherwise noted.