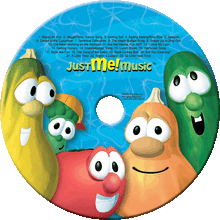 Silly Songs with VeggieTales is a personalized CD released by JustMeMusic in November 9, 2004.
Tracks
Ready for Fun
VeggieTales Theme Song
Setting Sail
Sailing, Sailing/Row, Row
Seasick
Dance of the Cucumber
Technical Difficulties
The Water Buffalo Song
Shape Up Or Ship Out
I've Been Working On The Railroad
Are We Having Fun Yet?
Love My Lips
Getting Hungry
Cheeseburger Song
Lunch Break
Hairbrush Song
Bulls Are Fun
The Song Of The Cebu
Back Comes Bob
Are You Sleeping
A Little Tired
Brahm's Lullaby
So Until Next Time
Fun Facts
Phil Vischer stated in a live Facebook interview that this and Sing Along with VeggieTales were the most painful experiences he had as a voice actor. This was because he had to repeat every line from a song on a loop, and in each loop he had to use one out of 1,500 names. He even stated that each individual line took 6 hours to record.
Community content is available under
CC-BY-SA
unless otherwise noted.