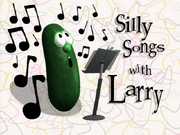 Silly Songs with Larry
(or simply
Silly Songs
) is a segment in
VeggieTales
when it's in the middle of a break, although it might be in one third of the show depending.
The songs are mostly done by Larry, though Mr. Lunt, Archibald, Bob, the French Peas, Oscar, Junior, and Laura have done their own Silly Songs as well.
History
Phil Vischer wrote in his book, Me, Myself, and Bob that when he originally created the Silly Songs segment for the first episode, he never intended it to be a recurring segment, as episodes afterward would feature other funny segments, with another silly song only used spontaneously. After complaints, however, about the lack of the segment in the second episode, he suggested to Mike Nawrocki that he should write more Silly Songs for future episodes. Since the third episode, the segment has returned and has helped Kurt Heinecke grow to be a music composer and producer.
Songs
Other Languages
??? (Albanian)
??? (Arabic)
??? (Cantonese)
Šašave pjesme s Leonu (Croatian)
Larin hullunkurinen laulu (Finnish)
Les Chansons loufoques de Larry (French)
Silly Songs mit Larry (German)
??? (Greek)
??? (Hebrew)
??? (Hungarian)
Lagu Lucu Bersama Larry (Indonesian)
ラリーと歌おうのコーナー (Japanese)
??? (Mandarin) (Taiwan) (1st dub)

??? (Mandarin) (Taiwan) (2nd dub)

Dumme sanger med Snurken (Norwegian)
??? (Persian)
Silly Songs com Larry (Portuguese) (Brazil) (1st dub)

Canções Divertidas com Larry (Portuguese) (Brazil) (2nd and 3rd dubs)

A Canção Tonta de Luís Pepino (Portuguese) (Portugal)
??? (Russian)
Una Canción Tonta con Larry (Spanish) (Latin America) (1st dub)

Canciones Tontas con Larry (Spanish) (Latin America) (2nd dub)

??? (Slovenian)
??? (Vietnamese)
Trivia
Community content is available under
CC-BY-SA
unless otherwise noted.