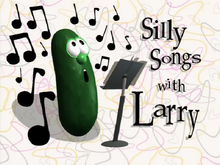 Silly Songs with Larry (or simply Silly Songs) is a segment in VeggieTales when it's in the middle of a break, although it might be in one third of the show depending.
The songs are mostly done by Larry, though Mr. Lunt, Archibald, Bob, the French Peas, Oscar, Junior, and Laura have done their own Silly Songs as well.
Format
Sometimes a Silly Song is introduced with a static picture of Larry. Then, an unseen narrator comes on and says the following: "And now it's time for Silly Songs with Larry, the part of the show where Larry comes out & sings a silly song." However, this format is used loosely; sometimes it is renamed, adapted to the context of the episode, or given up altogether.
The Silly Song, when present, always appears in the middle of an episode, usually at a cliffhanger moment or between two separate segments. The segment either takes place on the familiar countertop which opens and closes some of the episodes, or is presented in another setting off the countertop. On some videos, the background scenery often appeared as a stage set, behind which electrical outlets and ceramic tile can be seen.
On a few occasions, the song is stopped and replaced before it can even begin. When this occurs, the brief images that are shown of the original song are intentionally more outlandish than usual, leaving the audience to wonder what that specific silly song might have been. Examples of this occurring were in the following episodes: 
Madame Blueberry
Lyle the Kindly Viking
Moe and the Big Exit
The segment usually ends with the same unseen narrator coming back on and saying that: "This has been Silly Songs with Larry. Tune in next time to hear Larry sing.." Then, Larry or another character usually does something, then the segment ends.
History
Phil Vischer wrote in his book, Me, Myself, and Bob that when he originally created the Silly Songs segment for the first episode, he never intended it to be a recurring segment, as episodes afterward would feature other funny segments, with another silly song only used spontaneously. After complaints, however, about the lack of the segment in the second episode, he suggested to Mike Nawrocki that he should write more Silly Songs for future episodes. Since the third episode, the segment has returned and has helped Kurt Heinecke grow to be a music composer and producer.
Songs
VeggieTales
The VeggieTales Show
Other Languages
Këngë koti me Lerin (Albanian)
??? (Arabic)
阿力唱傻瓜歌的環節 (Cantonese)
Šašave pjesme s Leonu (Croatian)
Larin hullunkurinen laulu (Finnish)
Les Chansons loufoques de Larry (French) (as the original series was never dubbed in French, this translation comes from the French subtitles to Oh, Santa! from the DVD release of The Best Christmas Gift)
Silly Songs mit Larry (German)
Ανόητα Τραγούδια με τον Λάρι (Greek) (The Water Buffalo Song)
??? (Hebrew) (because Pistachio - The Little Boy That Woodn't was the only episode dubbed in Hebrew, this is for Obscure Broadway Show Tunes with Larry)
Csacska dalok Larryvel (Hungarian)
Lagu Lucu Bersama Larry (Indonesian)
ラリーと歌おうのコーナー (Japanese)
 ??? (Korean)
??? (Mandarin) (Taiwan) (1st dub)

??? (Mandarin) (Taiwan) (2nd dub)

Dumme sanger med Snurken (Norwegian)
??? (Persian)
Silly Songs com Larry (Portuguese) (Brazil) (1st dub)

Canções Divertidas com Larry (Portuguese) (Brazil) (2nd and 3rd dubs)

A Canção Tonta de Luís Pepino (Portuguese) (Portugal)
??? (Russian)
Una Canción Tonta con Larry (Spanish) (Latin America) (1st dub)

Canciones Tontas con Larry (Spanish) (Latin America) (2nd dub)

Lovrove trapaste pesmice (Slovenian)
??? (Vietnamese)
Trivia