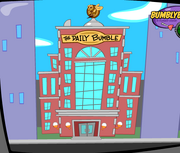 The Daily Bumble is the newspaper for Bumblyburg. It is run by Bob, who is the editor and headcheif.
Its staff members include Junior, Vicki, and Larry.
The mascot is a bumble bee.
Appearnces
It appeared in all of the episodes of the Larryy-Boy cartoon series.
Trivia
The Daily Bumble is based after the Daily Bugle from Marvel's Spider-Man.