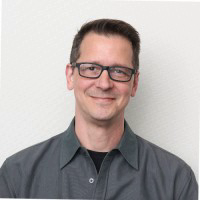 Ron Smith (born July 8, 1966) is an animator, voice actor, and director at Big Idea.
He was the sixth person to work for the company, and worked on VeggieTales and directed 3-2-1 Penguins!.
After Big Idea moved to Franklin, Tennessee, he started working for other animation companies, such as Disney, Sony Pictures, and Blue Sky Studios. His last credited role was producer for VeggieTales Live! Sing Yourself Silly.
He is married to Julie Smith.
He started working at Big Idea in September 1994 and worked until 2003, although he produced several CDs afterwards until 2007.
Voices
Trivia
Gallery
Shots animated by Ron Smith
Works with Big Idea