Perfect Puppy is the 40th Silly Songs with Larry. Larry wants to have the best dog that fits him.
Lyrics
The Announcer: And now it's time for Silly Songs with Larry, the part of the show where Larry comes out and sings a silly song
(shows Bob and Larry in a room looking at books and a newspaper)
We join Larry in his search for a vegetable's best friend.
Larry: The perfect puppy
I woke up dreaming of a friend
Perfect puppy
The happy hour we could spend
I've been a little lonely
I thought, if I could only
Only look up and see
The perfect puppy for me
Bob: How 'bout a French poodle?
It's very smart and curly
Larry: Je ne parle pas francais
I hear they wake up early
Bob: Maybe Dalmatian
It rides around on fire trucks
Larry: Those spots make me dizzy
Those sirens drive me nuts
Bob: You like chihuahua
It's as tiny as can be
Larry: Si senor, it's mucho small
I might squish it accidentally
Bob: Okay, a Great Dane
It's really, really big
Larry: Yeah, but feeding it, and feeding it
Would become my only gig
Bob: Uh oh, that wouldn't be good.
(switches to them at a jeep)
Larry: The perfect puppy
To always be right by my side
Perfect puppy
To find those toys that try to hide
My heart is so wide open
I spend each moment hopin'
Hopin' I'll look up and see
The perfect puppy for me
Bob: Have you ever seen a Shar Pei?
It has really wrinkled skin
Larry: I'd like to iron out those wrinkles, but where to begin?
Bob: A Chow Chow?
It looks like a lion, but it's nice
Larry: I only got time to feed it once
And a Chow Chow eats food twice
Bob: Havanese?
Larry: No
Bob: Pekingese?
Larry: No
Bob: Maltese?
Larry: No, none of these
Bob: Shih Tzu?
Larry: No
Bob: Cockapoo?
Larry: No, these won't do
Bob: What's wrong with you?
(switches to the outside of the animal center)
Larry: Maybe I'm afraid of hair
Pick up poo, I wouldn't dare
But my biggest fear might be
Will I love it
And will it
Looovvveeee meeeee
Bob: Larry
Larry: Sorry
(the building prop turns into the inside of the animal center. Larry spots a dog that looks like him, they both hop to each other, in slow motion)
He's awesome!
Hey pall, I'll tell you what
Some say you're just a mutt
But when I look up I see
The perfect puppy for meeeeeee!
Dog: Arrroooowwww!
The Announcer: This has been Silly Songs with Larry. Tune in next time to hear Bob say...
Bob: He looks familiar to me...
Larry: I think he might be a Cuke-a-poo.
Bob: ...Does he look familiar to you?
Fun Facts
Explanations
Dalmatians are often animal mascots for firehouses.
Trivia
The images on newspaper are screenshots from previous episodes, including:
The photo seen on the viewers' right was from O Veggie, Where Art Thou?.
Remarks
Larry states he didn't want a poodle, even though he didn't have issues with them before.
Inside References
Real-World References
The music piece that was used when Larry met the perfect dog is "Fantasy Overture" from Romeo and Juliet done by Tchaikovsky.
Gallery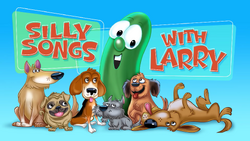 Community content is available under
CC-BY-SA
unless otherwise noted.