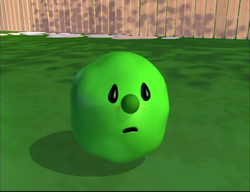 Percy
Percy Pea is a recurring character from VeggieTales. He is voiced by Phil Vischer, the show's creator.
Bio
In his debut, he was a worker for the Nezzer Chocolate Factory who had an injury on his head. After that, he resides in Dinkletown with his family. He was one of the kids, along with his younger brother who wanted the new Buzz Saw Louie toy. Then he moved to Bumblyburg. He is a good friend of Junior Asparagus.
Filmography
Fun Facts
He is allergic to anything related to cotton, as shown in the Star of Christmas and Little Drummer Boy.
Although he was introduced in Rack, Shack, and Benny, he wasn't given a name until at least Larry-Boy! and the Fib from Outer Space!