Pa Grape
Species: Grape
Hair color: Gray
Age: 82
Pa Grape is one of the main characters from VeggieTales. He has a Brooklyn accent.
Bio
Pa Grape was originally from the hills of West Virginia. In his first appearance, he and his family's car bumped on a tree stump by Junior's house. They first made fun of him, but then forgave him later.
Personality
Pa Grape is a borderline-senile yet loveable old grape. He is Tom and Rosie's father, and is married to Ma Grape.
Physical Appearance
Pa is a green grape and a purple nose with gray eyebrows and a gray mustache, with silver glasses. He is wearing a top hat in his original version.
Since VeggieTales in the House, he gained beady black eyes. He also has an orange clown nose, and his glasses are gold.
Filmography
VeggieTales
The VeggieTales Show
Voice Actors
Fun Facts
Gallery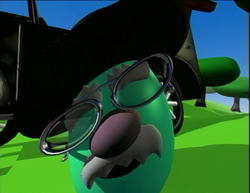 Community content is available under
CC-BY-SA
unless otherwise noted.