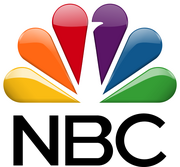 The National Broadcasting Company
is an American commercial broadcast television and radio network that is the flagship property of NBCUniversal, a subsidiary of Comcast. The network is headquartered at 30 Rockefeller Plaza in New York City, with additional major offices near Los Angeles at 10 Universal City Plaza, Chicago at the NBC Tower, and Philadelphia at the Comcast Technology Center. It broadcasted
VeggieTales
and
3-2-1 Penguins!
through its kids block,
Qubo
.
NBC's broadcasts of VeggieTales came under heavy fire due to being heavily edited to remove all references to God and religion, as ordered by the Standards and Practices department to diversify the audience and not advocate any one religious view. Parent watchdog groups were unhappy with the change, and Phil Vischer said he wouldn't have signed the contract had he known how much NBC would censor the series, but understood their stance.
Episodes that Were Aired on NBC
VeggieTales
3-2-1 Penguins!
LarryBoy: The Cartoon Adventures
Community content is available under
CC-BY-SA
unless otherwise noted.