My Baby Elf is the 18th Silly Songs with Larry.
Ear-a-Corn (dressed as Elvis Presley) sings a song about an elvish girl, whose disdain for Ear-a-Corn is mistranslated by him as compliments.
Lyrics
Announcer: And now it's time for Silly Songs with Elves, the part of the show where Ear-A-Corn comes out and sings a Silly Song for elves.
Larry: I asked my baby, my baby elf. A couple questions about myself. If I was handsome, if I was nice. I was lookin' for her advice. She looked at me and shook her head, and this is what she said:
Elf: (Subtitles: Do I know you? What did you say? Green one go away! Be silent! Green one! Green one go away! Go kiss a Spork! Stop that! Help!)
Larry: She yelled so loud, she hurt my ears. My eyes all welled up full of tears. But I don't mind none, 'cause she's my elf. My elfity, babity, babity, babity, babity, babity, babity elf. When I go walkin' all by myself, I'm busy thinkin' about my elf. I keep her picture upon my shelf. I'm always dreamin' about my elf. I won't forget the way that she says those words to me.
Elf: (Subtitles: When do you leave? Much wind pours from your mouth! Do you feel well? Are you finished? Be silent! I leave now to do laundry.)
Larry: Don't know exactly what she said, just know it kinda hurts my head. I'll take an Aspirin, 'cause she's my elf. My elfity, babity, boopity, babity, babity...
Jimmy: (cuts Larry off) Hold on a minute!
(Music stops)
Larry: Huh? What? What? What? What are you doin'? (Jimmy pulls off Larry's fake elf ears) Ouch! Hey!
Jimmy: I knew it, I knew it!
Larry: What?
Jimmy: You should be ashamed of yourself. You're no elf, you're an elvish impersonator! You sicken me, deceitful one!
(Jimmy takes Larry's guitar)
Larry: Oh, right. Like you're a real elf. Give the gourd a bow and arrow and he's a real elf!
Announcer: This has been Silly Songs for Elves.
Jimmy: Behold, Leg-O-Lamb! Have at thee, my bow shall sing with your pompadour!
Larry: Don't you point that thing at me! Help!
Fun Facts
An Elvis (Elvish) impersonator is a term for someone who impersonates the late Elvis Presley. This started in the mid '50s.
This is the first Silly Song that's in the same setting as the story.
This is also the first Silly Song not to feature the countertop at all.
The font used for the elf translation is Papyrus.
The broken relationship between Ear-a-Corn and the elf lady makes fun of Aragorn and Arwen's chemistry in Lord of the Rings.
Gallery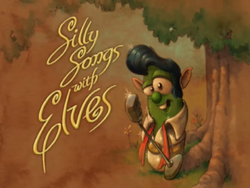 Community content is available under
CC-BY-SA
unless otherwise noted.