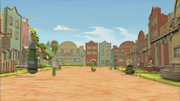 Muscatine is a city in Iowa, and has a current population of over 22,000 people. It is also the birth hometown of Phil Vischer.
Appearances
In VeggieTales, first appeared in Big River Rescue when Huck was trying to get some help so Little Jimmy can be back at St. Louis. However, Huck scurried away because of criminal posters of Little Jimmy are all over the town, and everyone there had fireworks to warn about him (courtesy of Dooley). The town of Muscatine is a redressed version of DodgeBall City.
Trivia
Brian Roberts states that Muscatine is actually highly populated in 1904 (the time setting for Big River Rescue), so it would've been more city like than frontier as they depicted in the episode.
Community content is available under
CC-BY-SA
unless otherwise noted.