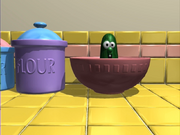 Mr. Cuke's Screen Test was an animation test done by Phil Vischer when he was working on the production of VeggieTales. This was done in 1991.
Plot
Genius is born: Larry the Cucumber first appears in the rarely seen, 12-second film, Mr. Cuke Screen Test.
The first time anyone "saw" Larry, he appeared in a 12-second promotion scene. The scene showed the same tile countertop we see in VeggieTales videos today, topped by a salad bowl. From that ceramic bowl appears Larry. The cuke peeks over the edge, sticks his head out, and jumps out of the bowl onto the counter. It was a silent movie (Larry did not sing Silly Songs yet ... be patient!). Phil used that first video to try to sell his idea for VeggieTales. He had big dreams for Larry, but he could not find a company to finance his vision. So, he went back to the drawing board.
Fun Facts
This marks the debut of Larry.
This was the first time the countertop is rendered in Softimage.
The canisters in the background have their spices named on it: Tea, Sugar, and Flour. The markings are taken off later after VeggieTales Promo: Take 38.
According to Phil Vischer's autobiography, he actually pitched this animation test to Nickelodeon but they turned the idea down because they didn't accept computer animation at the time.
This video was found in a behind-the-scenes segment at the end of the 2004/2003 VHS release of Where's God When I'm Scared? Also, like the Take 38 promo, this screen test is extremely rare and also was not included on the DVD versions for unknown reasons.
This is one of the few works from Big Idea created during the time American president George H. W. Bush was in office. By the time the series premiered, Bill Clinton was already in office.
Video
Community content is available under
CC-BY-SA
unless otherwise noted.