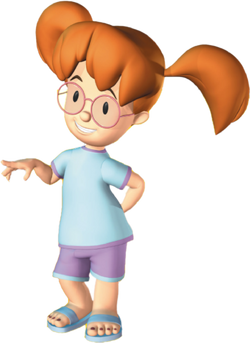 Michelle Francis Conrad
Species: Human
Gender: Female
Hair Color: Brown
Eye Color: Black
Michelle Frances Conrad is a seven-year-old girl who is a member of the Rockhopper crew from the Federation. She is also the twin sister of Jason.
Bio
She went with her brother to Grandmum's cottage when their parents went on a business trip.
Personality
Like her brother, Michelle is smart and clever. However, she can be stubborn sometimes. She may think she knows a lot, but she realizes she has a lot to learn from her penguin friends.
Physical Appearance
Michelle Conrad has long brown hair in pigtails, black dot eyes and freckles. She wears a blue T-shirt with a yellow flower on it, purple shorts, blue sandals, and pink glasses.
Filmography
Voice Actors
Fun Facts
She is the only 3-2-1 Penguins! character whose design has changed.
Michelle is only five minutes older than Jason.
In the original episodes, she doesn't like wearing glasses. However, this trait seems to vanished after the series came back.
Gallery