This article is about the character. You may be looking for the episode.
Madame Blueberry
Species: Blueberry
Hair color: Brown (Occasionally Blonde)
Eye color: Green
Eye shadow: Dark Purple/Pink (VeggieTales in the House)
Madame Blueberry is a French blueberry who likes having anything she wants, though very friendly to everyone. She is also the mayor of Bumblyburg in the main Larry-Boy series.
Bio
In her debut episode, she wanted more things after seeing all the nice stuff all her friends got, and sobbed about it. Later, some salesmen showed up and told her about the new store called Stuff-Mart that has everything she wants.
Filmography
VeggieTales
The VeggieTales Show
Voice Actors
Fun Facts
Gallery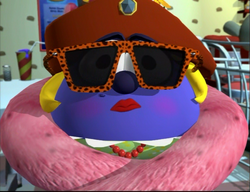 Community content is available under
CC-BY-SA
unless otherwise noted.