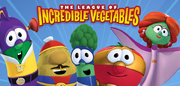 The League of Incredible Vegetables are a team of superheroes.
The team is consistent of;
ThingamaBob
Vogue
S-Cape
Ricochet
Alfred
Larry-Boy
Click here to see more information about Larry-Boy
ThingamaBob
Bob
ThingamaBob is one of the members of the League of Incredible Vegetables.
Physical Appearance and Abilities
ThingamaBob is a red tomato who wears a gold mask and belt, which contains the team's emblem.
Like the other members, he has no real super powers and uses his costume instead to battle. His belt has a lot of functions, such as arms and gadgets (similar to Larry-Boy's belt from the cartoon series). He also has a hammer.
Fun Facts
The name is often known as a place holder for something someone forgets.
Even though Bob had a alter ego from Bad Apple, this is a brand new hero identity. Mike Nawrocki stated this because younger fans didn't get the Robin reference due to his lack of appearances in the recent Batman media.
According to the episode's website, his favorite superhero is Batman.
His gold color scheme is similar to Marvel's Iron Man, while his hammer is similar to Thor.
His biggest fear are monkeys.
When Big Idea began work on superhero spoofs, the initial plan was that Bob would be the one to adopt the persona of Bat-Bob, with Larry-Boy being his sidekick. This changed, however, when they decided that Larry-Boy seemed to be a lot funnier, and thus the idea of Bob having a superhero identity was shelved until The League of Incredible Vegetables.
The fact ThingamaBob uses gadgets to fight crime is similar to the titular hero of the 1980s cartoon Inspector Gadget.
Community content is available under
CC-BY-SA
unless otherwise noted.