Elliot's "Afraid Of" List is a bonus song.
Elliot tells the the viewers his fears.
Lryics
Polka dots, tater tots
Hypodermic needle shots
Flying squirrels, Strings of pearl
Polka dancing with a girl
Wiffle balls, Niagara Falls
Perfume kiosks in a mall
Banana crepes, seedless grapes
Tim Burton's version of "The Apes"
Chop suey, milk that's chewy
And to tell the truth, Buzz Saw Louie!
Fun Facts
Explanations
Hypodermic needles are hollow needles used for shots.
Wiffle Ball is somewhat a variation of baseball, though the main difference is that the materials are plastic.
Trivia
Real-World References
The film Elliot was talking about was Tim Burton's version of "Planet of the Apes", released in 2001.
Gallery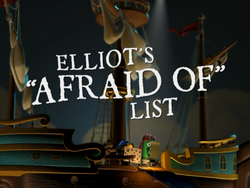 Community content is available under
CC-BY-SA
unless otherwise noted.