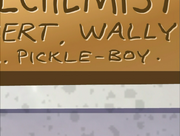 In VeggieTales, Larry is a cucumber, although he has occasionally been mistaken for a pickle throughout the show.
Instances
VeggieTales
LarryBoy: The Cartoon Adventures
VeggieTales in the House
Beatbox Bill - The corn woman asks the other guy with Bacon Bill was a pickle. Larry later corrected this later that he is not.
The VeggieTales Show
A Tale of True Courage - While not necessarily mistaking Larry for a pickle, Mr. Lunt calls him a pickle when Larry corrects him on his name.