I Scream, You Scream
Director(s)
Writer(s)

Kirby Atkins

Music by
Released

October 5th, 2007

Runtime

23 minutes

Previous episode
Next episode
I Scream, You Scream! is the first episode from the first season of 3-2-1 Penguins!
Plot
Zidgel enters the main room with some dental floss stuck between his teeth, demanding to know who took his floss. Jason is about to ask him if he looked in his beak when Zidgel points out that he looked under the rug, in the garbage, but not in Kevin's diary for his floss. He notices that Midgel is awfully quiet and calls him a "Mister Hey-look-at me! I'm a pilot man person." Midgel playfully points out the captain's quick temper. Zidgel
Fun Facts
Trivia
This marks the first appearance of Sol, Admiral Strap, and Cavitus.
Tim Hodge stated on the commetray that this episode was gonna be a long arc of the penguins trying to hunt down Cavitus for the part of the Galeezle.
The verse quoted is "Proverbs 17:27."
Gallery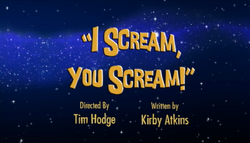 Episode
Community content is available under
CC-BY-SA
unless otherwise noted.