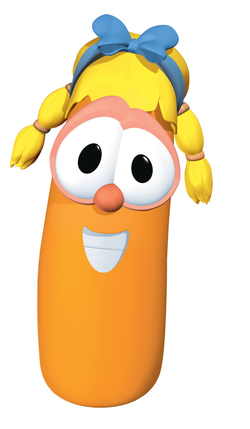 Laura
Species: Baby carrot
Hair color: Blonde
Laura is one of the main characters from VeggieTales.
Bio
Laura first appeared in Are You My Neighbor? as one of the inhabitants Jibber-de-Lot, along with her father and brother Lenny. She later became an employee at Mr. Nezzer's chocolate bunny factory, driving her hover truck. After seeing her friends were in trouble, Laura decided to rescue them from Mr. Nezzer's hands.
Episode Appearances
Laura appeared in numerous appearances since her debut. Her most famous roles are Miram Princess Poppyseed and Vanna Banana, and as herself in Rack, Shack, & Benny, The Rumor Weed, and Jonah.
She was gonna played the the role of the Princess, but was later given to Eloise.