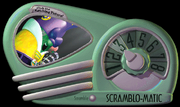 The Scramblo-Matic
was a online game from the official website.
Plot
From the folks who brought you the Forgive-O-Matic and Chia Forgive-O-Matic, it's Scramblo-Matic -- the new product guaranteed to mix up your mind!
How to play
Just click on a number to start a song, then watch the picture window carefully. When you see the picture that matches the song, click on it! Use the "Scramble" button to start over.
List of songs
List of songs that didn't appeared in the game
Trivia
The game is no longer available after the website was revamped. However, the game can still be found at Internet Archives.
External links
Community content is available under
CC-BY-SA
unless otherwise noted.