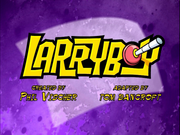 LarryBoy: The Cartoon Adventures (also known as simply LarryBoy) is a cartoon adaptation to Larry-Boy and is the third show created by Big Idea.
History
The cartoon series starring everyone's favorite plunger-headed hero started a few years after the production of either the first or second Larry-Boy videos were completed, when the staff was asked to doing a series on the character. But Phil Vischer stated that it would've been too hard due to the production process of their feature film at the time. Then someone suggested to Phil that could make it in a style of a comic book; cartoon style. Animator Tom Bancroft who just joined the company worked on the new series, made it a cartoon done in flash animation.
The first episode of the series was released during March 16, 2002, selling to various Christian bookstores and retailers across the country. However, the reception was mixed at the time. According to Phil in his blog, fans and parents complained that it looked cheap and it looked like something similar to "Powerpuff Girls" that they can watch on cable television instead. Tim Hodge stated in the Bad Apple commentary it was somewhat an experiment they tried out, but didn't become what they wanted.
The series lasted for four episodes total, with the last one coming out on June 10, 2003. It is unknown why the series was cancelled, though it is possible it was due to Big Idea moving to Franklin and filing for bankruptcy at the time following disappointing box-office results for Jonah: A VeggieTales Movie and a lawsuit by former VeggieTales mass market distributor HiT Entertainment, as well as the reception everyone had towards the series at the time.
Episodes
Shorts
Characters
Fun Facts
Gallery
Community content is available under
CC-BY-SA
unless otherwise noted.