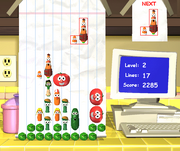 Veggie Pile-Up was a online game from the official website.
Plot
Here's a very Veggie twist on a classic puzzler! Pile up your favorite VeggieTales characters to make a solid horizontal line. Try and clear as many lines as you can!
How to play
Use the arrow keys on your keyboard to move the Veggie characters. If you get a row, you'll get points and the characters will be replaced by peas.
Trivia
The gameplay is based after Tetris.
The game is no longer available after the website was revamped. However, the game can still be found at Internet Archives.
External links