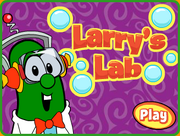 Larry's Lab was an interactive game from the official website.
The game is that you can play around Larry's laboratory and you mix ingredients and chemicals into a flask.
How to play
Click on one of the ingredients to drop it on the funnel.
Once two or ingredients are added in the beaker, click on the spigot to see the outcome.
Characters
Fun Facts
When the game was first released, it was in the style of the Larry-Boy cartoon series. After the site got revamped, it was then redesigned to the style of VeggieTales. However, the audio is now in lower quality than it originally was.

As of 2015, the game is no longer available on the official website after it was revamped to the Netflix series. However, both versions can be accessed through Internet Archives.

There's a secret formula: If you click on Larry he will tell the secret formula, which is a tornado.
Here's Bob's quotes when he replaces the bottles.

"Try not to destroy the entire lab, okay Larry?"
"Uh, Larry, do you smell something? Oh. Never mind."
"Oh, that's uhh...beautiful, Larry!"
"It's getting pretty weird, Larry."
"(sigh) I'll get the broom."
"Well, Larry, you have plenty of these left."
"Well that could've gone better."
"Don't you worry Larry, I'll fix that."
"Uhh, Larry, what are you doing here in the dark?" "Well, just be careful, alright?"

The ingredients' names are:

Crystallized Hillarium
Polyunsaturated Transformium
Deoxygenated LMNOP
Metaphorium
Comedium Plasma
Hydrolized Chaosomay
Gallery
External link
Community content is available under
CC-BY-SA
unless otherwise noted.