Larry's Cousin Comes to Town
Director(s)
Writer(s)
Music by
Released

September 23, 2016

Runtime

11 minutes

Previous episode
Next episode
Larry's Cousin Comes to Town is the second half of the 9th episode from the 4th season of VeggieTales in the House.
Plot
Characters
Fun Facts
Explanations
"Homie" is a urban term for a male friend from home.
Trivia
The carrot man who asks Larry's if he was George's cousin sounds similar to Mr. Nezzer.
Remarks
Junior, Laura and the Gourd Bothers are not credited despite singing about George (Jerry is debatable, as his mouth is behind Laura). Though this is because their voices are not heard.
George states the sandwich he ate is tuna, but the patty is more of a hamburger.
Goofs
Despite being at George's event for breaking a record, Ichabeezer's voice is not heard.
Inside References
Episode Transcript
Gallery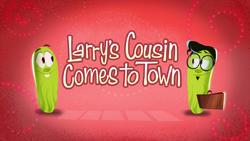 Community content is available under
CC-BY-SA
unless otherwise noted.