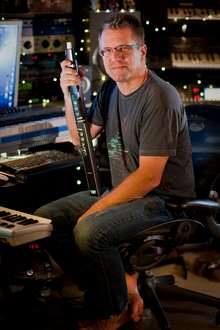 Kurt Henry Heinecke (born January 10, 1963 in Milwaukee, Wisconsin) is an American songwriter and composer for VeggieTales and 3-2-1 Penguins!.
Prior to his work at Big Idea, Kurt was a band director for high school and a music director at a church where Phil Vischer goes. He first started working at Big Idea when Phil needed a music composer for his first show.
He worked full-time at Big Idea until being laid off in December 2008. Despite this, he still composes for Big Idea through freelance work.
He is currently married to his wife Judy and three children.
Fun Facts
Kurt used a borrowed sousaphone from the high school band he used to work for the theme song from VeggieTales.
He is the only crew member who gets confused on who is Jimmy and Jerry.
He also works as a photographer.
He was a schoolteacher in Commonwealth of the Bahamas, before settling in Chicago, where Phil would hire him as the music composer for VeggieTales.
He used his sample CD, Peter Siedlaczek's Complete Orchestral Collection.
Works with Big Idea