"You see, you don't have to be afraid because God is the biggest."
— Bob
250px
Where's God When I'm S-Scared?
Director(s)
Writer(s)

Phil Vischer

Music by
Released

December 21, 1993

Runtime

31 minutes
Where's God When I'm S-Scared? is the first episode of the Christian computer-animated series VeggieTales.
The first story deals with Junior's fear of monsters, while the second story is a retelling of Daniel and lionsden.
Plot
The episode starts when Bob reads a letter from a little girl who is afraid because their might be monsters in her closet.
Fun Facts
Explanations
A crisper is the bottom drawer of a refrigerator. This is where poultry and produces should be stored.
Trivia
It was initially released on December 21, 1993 directly from Big Idea based on a "burn-on-demand"-like service, the first tapes being shipped out on December 21 (the day after the episode was finished).
This marks the first appearance of Junior, his Dad, and Frankencelery.
The shadows on the television show and the pupils are done by motion capture.
Phil came up with the idea of the Daniel story as a musical after watching Andrew Lloyd Webber's  "Joseph And The Amazing Technicolor Dreamcoat".
On the commentary, Mike Nawrocki that they should redo the episode with new animation and voices, just with the same script.
Remarks
The audio and visual quality on the rereleases are in a slightly lower. Phil apologized about this, stating it's been re-compressed over the years.
The 15th anniversary DVD states it includes DVD-rom features, but there's none.
Goofs
When Frankencelery escapes, part of his head phases through the door entrance.
Real World References
The first segment's title "Tale from the Crisper" is a spoof on HBO's "Tales from the Crypt".
King Kong is a 1933 film.
The music when the Wisemen were taking Daniel is reminiscence to Alfred Hitchcock's "Psycho". However, this was removed in the the 15th anniversary DVD release.
Fast Forward
The scientist's voice would be used later for Jimmy.
Gallery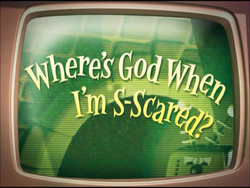 Community content is available under
CC-BY-SA
unless otherwise noted.