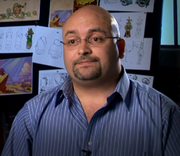 John Wahba (born November 1st, 1969 in Cairo, Egypt) is a Egyptian-American editor and producer. He started film making in Egypt in various film projects. He joined Big Idea in 1998 after moving to America and gained American citizenship. He fell in love with working with CG animation and worked as editor for VeggieTales and 3-2-1 Penguins! After Big Idea moved to Franklin, John Wahba moved to Irving, Texas to work for DNA Productions, who also created "Jimmy Neutron" and "The Ant Bully". He re-joined Big Idea in 2006 after DNA Productions closed and worked there up until The League of Incredible Vegetables.
He worked from January 1998 all the way to April 2003, but then worked again from September 2006 to December 2008.
Voices
Fun Facts
He appeared as Dad Carrot in Rumor Weed. When there were auditions going on for Dad Carrot, he voiced him in a funny Egyptian voice and he instantly landed the role. Nobody understood what he said.
Works at Big Idea
Community content is available under
CC-BY-SA
unless otherwise noted.