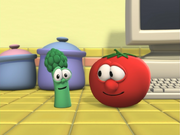 Throughout the show's run,
VeggieTales
has always been hosted by
Bob
and
Larry
. However, there are a few times that it might be hosted by someone else. Usually if either Bob or Larry are absent, or if the characters just want to take over.
List of different hosts
Junior - He first hosted the show alongside Bob in Josh and the Big Wall! after Larry was tired from filming his first superhero episode. He later took over Larry's place in Abe and the Amazing Promise, either because of his filming of the second feature film, or when he was filming the second Minnesota Cuke episode.
Jimmy and Jerry - Hosted the show in King George and the Ducky, stating to Bob and Larry when they find out that they wanted to host a show since Dave and the Giant Pickle.
Archibald - Hosted the show in Lyle the Kindly Viking, stating to Bob and Larry when they find out that he wanted to host a show because Jimmy and Jerry hosted a show, to which Bob replies that it was a disaster. He even replaces Silly Songs with Larry with a segment titled Classy Songs with Larry! He wanted to tell the classic Hamlet and Gilbert and Sullivan's lost musical, but it didn't turned out like how he visioned. Unlike the gourds, he did host the show better. Phil wanted Archibald to be as host for the day sometime either the second episode or in 1996.
The Pirates Who Don't Do Anything - Hosted the show in Gideon: Tuba Warrior, due to the fact stating they were bored, either because of filming Lord of the Beans, or when they were filming the Lone Ranger parody episode.
Community content is available under
CC-BY-SA
unless otherwise noted.