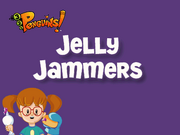 Jelly Jammers was an online game based on 3-2-1 Penguins!
Plot
Michelle is helping Grandmum making pastries, but she needs your help.
How to Play
Use your mouse to position Michelle in front of the pastry andclick on it to grab it before it cools down or gets bumped off the table. Once you grab the pastry, click and hold it just right. But don't hold too long or else jelly will splatter. The hotter the pastry, the more points you'll earn.
Fun Facts
External links