Welcome to the Big Idea Wiki
Featured Article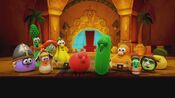 Warning! This page contains MAJOR spoilers. Caution is advised.
A ShakeSparagus Play is the sixth released episode of The VeggieTales Show which teaches a lesson about humility.
Read more...


Write a description about your topic. Let your readers know what your topic is about and add some general information about it.