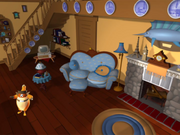 Hide and Seek is a series of games available in some releases of VeggieTales and 3-2-1 Penguins!.
How to play
Use your remote to highlight the object where the character is hiding.
Trivia
Sometimes after you find the character, they'll stay at the same hiding spot you founded them before.