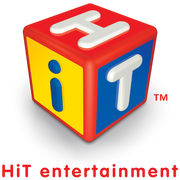 HiT Entertainment is a British-American entertainment company owned by Mattel and was originally established in 1982 as Henson International Television, the international distribution arm of Jim Henson Productions. They are known for owning and distributing shows such as "Thomas & Friends," "Barney & Friends," "Bob the Builder," "Kipper," "Fireman Sam," and "Angelina Ballerina."
From mid 2001 to early 2002, HiT distributed five of Big Idea's VeggieTales videos as a result of acquiring the company's mass market distributor, Lyrick Studios.
Because Big Idea had not made a partnership with HiT Entertainment (primarily because HiT was not usually interested in working with properties they did not own), Big Idea turned to Warner Home Video to serve as their new mass market distributor in 2002. HiT responded to this by filing a lawsuit against them in federal court for "breach of contract."
Their lawsuit against Big Idea was one of the major causes of Big Idea's bankruptcy in 2003 shortly after the release of Jonah: A VeggieTales Movie.
On February 1, 2012, HiT Entertainment was acquired by Mattel[1], and as of 2020, HiT's website now redirects to Mattel's website.
Releases
Reprints
Compilations/Triple Features
Gallery
References
Community content is available under
CC-BY-SA
unless otherwise noted.