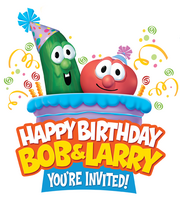 Happy Birthday Bob & Larry was the seventh VeggieTales Live! show. It was produced in 2013.
Plot
It's a Very Veggie Birthday, and You Are Invited! Join Bob and Larry and the entire VeggieTales crew as they put on the biggest birthday party ever celebrating VeggieTales' 20 years of stories, songs and fun. The show is filled with silly song favorites and memorable entertainment for the whole family! You won't want to miss this one-of-a-kind celebration! The show brings the best of the best, the most classic of the classic and the absolute silliest in songs, dance and fun. A high energy song and dance spectacular, this show will have fans singing along, dancing in the aisles and smiling so hard their teeth ache! Fan favorites include classic silly songs like "His Cheeseburger," "I Love My Lips," "The Hairbrush Song," and many more.
Songs
Act 1
Act 2
It's My Birthday!
VeggieTales Finale Theme Song (Live Show)
Fun Facts
Trivia
Remarks
In The Hairbrush Song, Junior slightly alters Bob's line by saying he gave the hairbush to Apollo Gourd, instead of mentioning the character in question, to coincide with that the version used was in the Boyz in the Sink version and the fact that the Peach was dropped from the major series.
Community content is available under
CC-BY-SA
unless otherwise noted.