This list is for characters who only appear in VeggieTales, listed in chronological order.
Henry
Henry is a potato and a miner from West Virgina.
During the commercial for the Fogive-o-Matic, he recommend costumers the Ginsu teak knives.
Henry only appeared in God Wants Me to Forgive Them!? and Are You My Neighbor?, though he makes an appearance in both versions of Bob and Larry's ABC's.
Palmy
Palmy is a coconut tree who lives in the island Bob, Larry, and their passengers were stranded. He teaches people to forgive and told Bob, Archibald and Lovey how to forgive Larry is ruined the sea tour and finally crashes into the rock
Appearances
Palmy only appeared in God Wants Me to Forgive Them!?
Voice Actors
Lumberjacks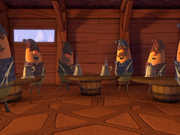 Lumberjacks
are carrots and background characters that originally worked at
Dooley and Son's Lumber Camp
.
Their costume are typical traditional, old-style lumberjacks, ranging from red to blue.
They originally appeared in Tomato Sawyer and Huckleberry Larry's Big River Rescue and Minnesota Cuke and the Search for Noah's Umbrella.
Community content is available under
CC-BY-SA
unless otherwise noted.